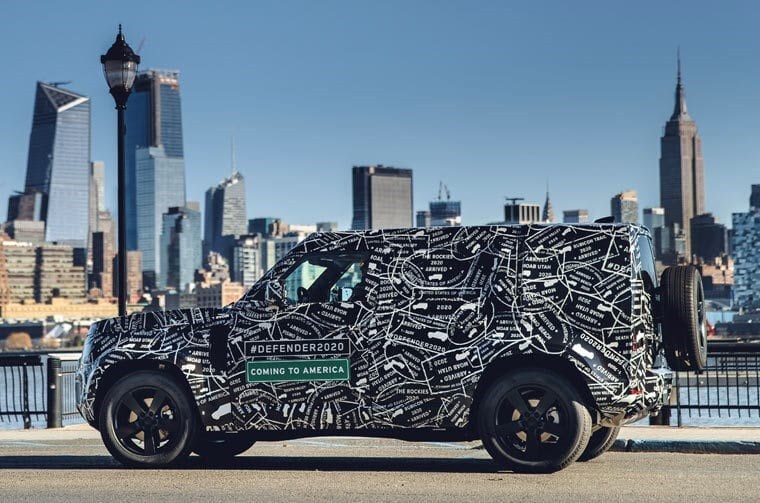 We may not have seen Land Rover automakers at the Detroit Auto Show providing us Land Rover fans here in the greater Chicagoland area with anything groundbreaking, but that hasn't stopped them from giving us a treat of what's to come. We're talking again about the 2020 Land Rover Defender.
We all know the iconic story of the Land Rover Defender by now. It's the original Land Rover SUV that we all got to drive, and we haven't seen one in the United States for some time. Over the last several years, we've heard rumors of the SUV's return, and now we know for sure that it's happening.
Luckily, we're getting more news about the upcoming Land Rover Defender. It's official now that the 2020 Land Rover Defender will rejoin the family among other favorite models like 2019 Land Rover Discovery. Recently, it was confirmed that the Land Rover Defender will be sold in the United States. Production is set to start in 2019 with a 2020 release date.
While we don't have many concrete details on the new model as of yet, we do know that it's a "revolutionary product," and we've even gotten to see some photos of a camouflaged model trekking around off-road.
Better yet, the vehicle is even being tested currently throughout North America. Drivers are taking the SUV through its paces by testing it at altitudes of over 13,000 feet and in a range of temperatures that fluctuate between -40 to 120 degrees Fahrenheit.
While the design is hidden, we can still see details of vents on the front and a rear-mounted spare tire. We can see that the overall shape is boxy, like the original Land Rover Defender. However, we expect to see similar design elements to modern models.
Here at Land Rover Northfield, we'll keep updating you on new details as we learn more. For now, expect to see the 2020 Land Rover Defender available next year. Also, please visit us to keep your current model running smoothly at our Northfield, IL Land Rover service center.